Made for the mountains
Having started his mountaineering career in 2008, Mingma David Sherpa, 32, is now one of the most recognised climbers of his generation.

Mingma David Sherpa currently leads a guiding company 'Elite Exped', alongside Nirmal Purja (Nimsdai) and Mingma Tenzi Sherpa. Photo courtesy: Mingma David Sherpa
bookmark
Published at : December 25, 2021
Updated at : December 25, 2021 08:13
When '14 Peaks: Nothing is Impossible' premiered worldwide on November 29, it took the internet by storm. Millions have since watched the documentary. Highlighting the ins and outs of the mountaineering industry, '14 Peaks' delivered a raw and unique experience to viewers via a thrilling tale that displayed man's tenacity and grit against perilous situations.
"I am pretty much the same as I was before all of this happened," says Mingma David Sherpa, a mountaineer and rescue crew member from the '14 Peaks' expeditions. One of the elite mountaineers from his team, he is the youngest person to climb all the fourteen 8000m peaks. Additionally, he was also one of the ten mountaineers that made history by becoming the first to summit K2 in winter on January 16, 2021, and he also holds the Guinness World Record for "Fastest time to climb Everest and K2" in 61 days.
For someone as decorated as he is in the industry, Mingma David is a rather unassuming character; not a whiff of arrogance in his demeanour. Having spent most of his life up in the mountains, his skin bears the kind of tone that reflects arduous treks and the harsh high altitude atmosphere. His down-to-earth disposition gracefully juxtaposes his sky-high ambitions—as he reflects on his mountaineering journey from scratch. Despite his monumental success in mountaineering, especially being renowned for his incomparable ability for meticulous planning, Mingma David initially never set out to be a mountaineer. With no one in his immediate family working in the climbing industry, Mingma David didn't have a clue as to where he would even start.
In 2008, while in Kathmandu to visit his cousins, he was stuck in the city due to the civil unrest that ensued, which meant that the road back home was blocked. "I started looking for jobs that year because I didn't have any money. Fortunately, I was asked by an acquaintance to join a trek as a porter, but I didn't know what that would even entail," he says. "Two years in the business, I realised that my body could perform well at high altitude when I went for a trip to Manaslu. This gave me the confidence to advance my mountaineering prowess, and I was later assigned the role of an assistant guide."
After taking a series of mountaineering and rescue courses, he summited Everest for the first time in 2010. "I was studying for my School Leaving Certificate (SLC) exams as well, but I later gave that up after deciding to summit Everest. Before planning the summit, I had a relative staying in Kathmandu who helped me get a passport so I could move abroad for work. But I just couldn't imagine what life in places like Saudi Arabia or Dubai would have in store for me—and nor did I want to find out," says Mingma David.
Mingma David, 32, recalls his childhood in Phaktanglung, Taplejung, assuming a jovial attitude, and later reminisces on his early years when he would often be racked with teenage angst—conflicted, as to where life was taking him. His foray into mountaineering was—and still is—emblematic of a large group of the population inhabiting the Himalayan region of Nepal—especially young boys of the Sherpa community. The geographic concentration of this community in that region, as well as the lack of economic opportunities, play a key role in determining how the majority of the Sherpa community opt for this vocation; it has historically been their forte. However, the industry's landscape has slowly been shifting, with many Sherpas choosing not to go into the profession.
This, Mingma David believes, is understandable, considering the risks associated with mountaineering. Several mountaineers have quit the job since it has usually entailed putting their family through mental and emotional anguish when they are out on expeditions. Mingma David recalls how he himself came at a crossroads with his profession back in 2014 when the catastrophic avalanche occurred on Everest. Reflecting back on that time, he grew a bit tense, as the subsequent years remained massively unfavourable for the mountaineering industry, especially due to the 2015 earthquake.
"Those years were severely demoralising for everyone in the industry. Many I knew left their jobs to either go to the Middle East to work or simply settle for other professions. Although I had second thoughts after being in such a precarious state, I somehow wanted to see through that tumultuous period until the end and decided to just stick with it. And to be honest, I wasn't a huge fan of the alternate options that I had," says Mingma David.
This is characteristic of a guy like him, according to Ashim Ghising—a close friend of Mingma David. "He is someone who has been steadfast in his career and has truly stuck with his lane from the get-go. I have known him for over a decade now, and he is truly one of the most diligent and modest guys I have known," says Ghising.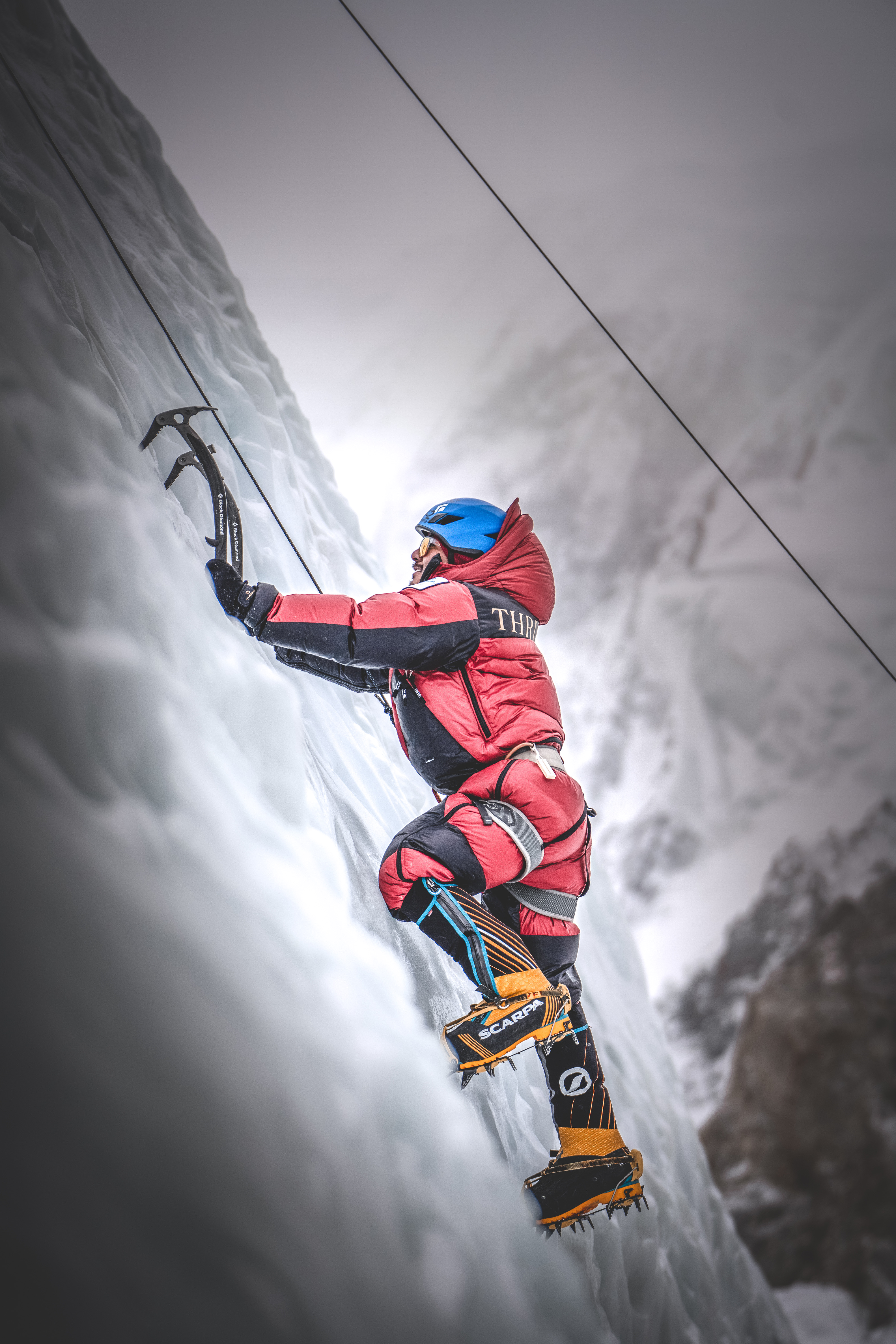 Photo courtesy: Mingma David Sherpa
While contemplating on the mountainous terrains of our country, Mingma David shares his qualms about climate change and how that is making mountains even tougher to summit. "At this point, I am familiar with every minute detail of the route to the mountains. Even though I am well accustomed to the harshness of the Himalayas, it has become increasingly gruelling to navigate those landscapes. This is because the Himalayas are the first to be affected by climate change. Especially at places like the Khumbu Icefall, the ice movement has sped up due to the rising temperature, which makes this particular location more treacherous than usual," says Mingma David, his face clouding over with apprehension.
Mingma David believes that only after we collectively change our attitude and acknowledge how the mountains are integral to Nepal and its economic prosperity can we spark a nationwide dialogue on its preservation and address the growing concerns bred by climate change. "It is also equally important to understand how this industry can be extremely lucrative and can contribute to the country's overall economy. Only when we recognise how the mountains are indispensable assets to Nepal can there be space for adept mountaineers within our country to bloom and proliferate."
The success of the "Project: Possible" team, who summited fourteen of the highest peaks in the world, underscored how the tides are shifting within the Nepali mountaineering industry. Mingma David represents that very shift in the industry where Nepali mountaineers are being recognised as being equally on par with elite foreign mountaineers. In addition to his own unwavering perseverance and resolute character, Mingma David believes that his mountaineering career has culminated into what it is today primarily because he was able to integrate himself with mountaineering brands and companies.
"A climber who works as a guide and summits Everest a dozen times wouldn't be receiving the kind of recognition as those who climb even once through a sponsorship. Those who are associated with brands—their endeavours—are funded and subsequently valued more because of this very affiliation," says Mingma David. Therefore, sponsorships from companies make a significant difference in giving climbers an upper hand in their profession.
"When we empower up and coming local mountaineers to learn how to network with brands—while simultaneously pushing those brands to foster an environment conducive to the growth of those aspiring mountaineers—we can subsequently create a proficient mountaineering force within these borders," he says. "For this to happen, the government should realise how an array of opportunities can stem from this industry."
Mingma David is, nonetheless, wary about relying too much on the government to uplift the Nepali mountaineering industry to newer heights. He thinks it is incumbent on the private mountaineering sectors to carry itself forward, rather than being dependent on the authorities to create any substantial progress.
Currently leading a guiding company called 'Elite Exped', alongside Nirmal Purja (Nimsdai) and Mingma Tenzi Sherpa, Mingma David aims to deliver his operational experience to promising mountaineers across all of the world's major mountain ranges.
"I want to put my expertise to good use and offer the world with as much first-hand knowledge about the mountains as possible," says Mingma David. "For professionals like us, getting to share our unique perspective on the mountains and bridging the divide between western and Himalayan climbing cultures is a truly soul-enriching feat."
---
---