Despite protests from animal rights activists, tens of thousands of animals are being slaughtered in Gadhimai
In line with the Supreme Court's order to work towards eliminating animal sacrifice, the temple has decided to stop sacrificing pigeons.

Several thousand animals, mostly buffaloes, await sacrifice at the Gadhimai festival every five years. Post File Photo
bookmark
Published at : December 2, 2019
Updated at : December 2, 2019 20:20
On the premises of the Gadhimai Temple, a massive slaughterhouse sprawls across 26 ropanis of land. On Tuesday, within this structure, over 30,000 animals will be sacrificed, its floors running red with blood.
The slaughterhouse currently houses 3,000 buffaloes, guarded by police and a wire fence. Half-a-dozen of the animals that were left out in the open have already died due to the cold while many others are sick and have been plied with medicine. Journalists and the public are not allowed to enter or take photos.
Five years ago, after vocal protests from animal rights activists, numerous reports in the media had said that the Gadhimai Temple had banned all animal sacrifice. But the herd of buffaloes awaiting sacrifice at the slaughterhouse says otherwise.
"We didn't ask people to bring their animals to slaughter," said Ramchandra Sah Teli, chair of Gadhimai Temple Management Committee. "They came on their own. After all, it's a tradition that they have adhered to and it is what makes the festival so popular. We do not support the mass slaughter nor do we oppose it."
The festival, which takes place every five years in honour of the goddess of power Gadhimai, is attended by millions of people from across Nepal and India. As of Monday, thousands had already arrived at the temple premises with their sacrificial animals.
"I have great respect for goddess Gadhimai," said Bishwanath Kalawar from Motihari in India. "We provide our offering happily. It is our choice."
Sacrificing animals, including buffaloes, goats, chickens, ducks and pigeons, has been a longstanding feature of the festival. According to Mangal Chaudhary, the main priest at the temple, the auspicious date to sacrifice buffaloes is Tuesday, and Wednesday for other animals.
"Despite campaigns by animal rights activists, the number of visitors has not declined," 67-year-old Chaudhary, who expects about five million pilgrims this year. The committee expects over 30,000 animals will be sacrificed this year.
Gadhimai is located in Bariyapur, six kilometres north of Bara's headquarters Kalaiya. The site has two small, nondescript temples sitting by the banks of the Pasaha River. There's a pond on the temple premises, flanked by paddy fields, and there are two dharmashalas.
But every five years, this quiet space comes alive with pilgrims and animals. Food stalls and entertainers spring up overnight. There are even mini-circuses. For many, the mass slaughter is what gives the festival its 'glory'. But since 2009, there has been increasing pressure on the temple authorities to ban the wanton animal sacrifice.
In anticipation of protests, security has been intensified, with a total of 1,500 security personnel deployed to the area. There are 70 closed-circuit cameras and security along the Nepal-India border has also been tightened.
"We are being especially careful about the security of pilgrims," said Superintendent Bikash Raj Khanal.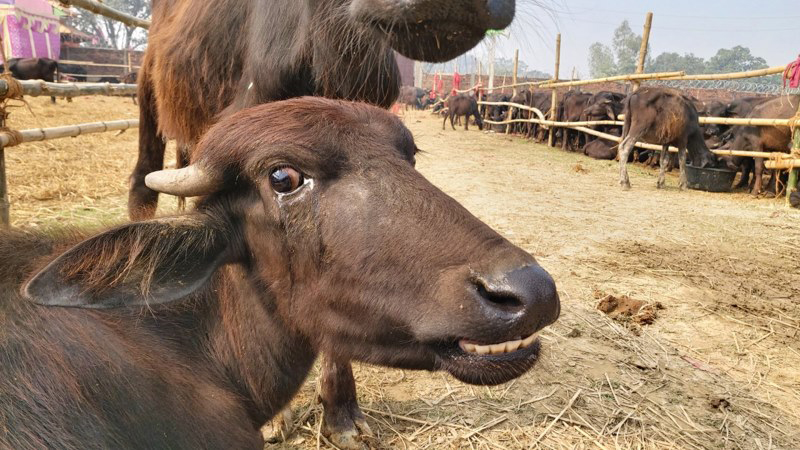 A slaughterhouse in Bara houses 3,000 buffaloes, including this one. Photo Courtesy: FAWN
In August 2016, the Supreme Court, responding to a petition filed against the mass slaughter, had issued an order to the government to stop animal sacrifices at Gadhimai fair. The Gadhimai Five-yearly Festival Main Committee has said that it will follow the court's orders and has decided not to kill any pigeons.
"We have decided not to sacrifice pigeons since they are believed to be signs of peace," said Naresh Shah, committee coordinator. There's also an age criteria for sacrificial buffaloes—younger animals will not be sacrificed, according to the committee.
The District Animal Office and Animal Quarantine Office, which works towards safeguarding the country from infectious animal diseases, have jointly launched a campaign to spread awareness about the communicable diseases that animals carry. There are also no proper roads, electricity, parking, drinking water, dumping site and latrine facilities, increasing the chances of diseases spreading.
"These campaigns have inspired us to protect animals. We are starting with pigeons," said coordinator Sah.
But despite protests, the mass slaughter is slated for Tuesday and Wednesday. The slaughter will proceed after sacrificing seven animals—mice, pigeons, chickens, ducks, pigs, and buffaloes. In the last iteration of the festival, an estimated 10,000 buffaloes were slaughtered, along with thousands of other animals.
In the past, Chamar communities from the Gadhimai area consumed the sacrificed animals and traded their meat. Unlike other Hindu rituals, the slaughtered animals are not taken home by their sacrificers. This year, however, a section of Chamars has planned to boycott the festival.
"Firstly, carcasses are not good for health. They have made many of us sick previously," said Raj Narayan Mahara Chamar, secretary of the boycott committee. "It's also a subject associated with the prestige of our community. Many look down upon us because we trade the sacrificed meat. The Festival Committee can manage the carcass."
According to Chamar, they will only be accepting vegetables, coconut, sweets and tika as the festival's prasad this year, not the meat.
Meanwhile, the Animal Welfare Foundation, an animal rights organisation, has also launched a campaign against sacrifice at the festival. But the campaign has not really taken off, said Sneha Shrestha, chair of the foundation.
"In Nepal, we don't have an act about animal welfare. We demand that the government introduce laws towards animal welfare," Shrestha said. "Sacrificing animals is superstitious. Where in the religious text is it written that gods and goddesses want dead animals?"
Legend has it that in the 17th century, one Bhagvandas Tharu was jailed in Makwanpur for murder. Tharu prayed to Gadhimai goddess, who promised to free him if he would take her to Bariyapur, the site of the festival. The festival, according to priest Chaudhary, then started by Tharu in honour of the goddess.
But according to Shrestha, sacrificing animals cannot always be defended as being a part of the tradition.
"There once was a sati system, which has now been abolished," she said. "Animal slaughter should also be abolished, like the sati. The gods won't be happy if innocent animals are killed."
---
---